Home Loans
If you're looking to move home, renovate, or simply refinance to get a better deal, speak to the experts at Elite Loan Services. We are here to find you the mortgage that best suits your needs.

If you're looking for information and tips about home loans and the whole application process, you've come to the right place. And if you can't find what you're looking for here or need more information, get in touch with our mortgage experts. They'll be able to answer all your questions.
Any home loan can be divided into one of 6 types: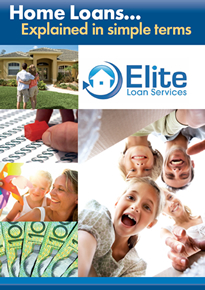 CLICK ON IMAGE TO VIEW BROCHURE

Basic Home Loans
Offer a discounted variable rate of interest for the entire life of your loan. The three key features of the basic home loan are:
A low ongoing interest rate for the life of the loan.
The flexibility to make extra repayments at any time and repay the loan early.
Redraw access to additional repayments.
Restrictions may apply on some options such as direct salary crediting and 100% offset savings accounts.
Repayment choices; weekly, fortnightly or monthly.
The basic home loan offers good value for money if you are on a limited budget.
Standard variable rate home loans
To attract new borrowers, these loans usually offer a cheap 'honeymoon' rate of interest for the first year. They offer many features including: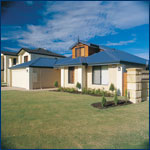 A lower interest rate for the first year.
The flexibility to make extra repayments at any time.
Redraw access to additional repayments.
The ability to combine with 100% offset to reduce interest costs.
The ability to package up with other loan products; fixed rate and line of credit.
After the first year, the rate reverts to the standard variable rate for the remainder of the loan term.
Repayment choices; weekly, fortnightly or monthly.
If you take advantage of the introductory 'honeymoon' rate, you may not be able to repay the loan without penalty for up to three years.
Fixed rate home loans
Usually available for terms of between one to five years, fixed rate home loans offer repayment certainty in uncertain times.
Interest rate will not change during the fixed period.
Repayments will not change during the fixed period.
The loans may suit those on single or low incomes where increases to loan repayments could become a financial strain.
Fixed rate loans tend to be more popular when interest rates are rising, and the opposite applies when interest rates fall.
Additional repayment limitations apply.
Early repayment penalties may apply. These penalties could be significant to you as a borrower.
Redraw is generally not available with these loans, and linkage to 100% offset benefits is limited.
When choosing a fixed rate home loan, you need to be certain that your domestic circumstances will not change, requiring early discharge of your loan during the fixed period.
100% offset
Interest is charged on a daily basis on the net debit balance; the loan balance minus the savings account balance. The key features of this type of loan include:
A savings account that effectively earns home loan rates of interest.
A means to save thousands of dollars in home loan interest.
The flexibility and convenience to pay extra and redraw at any time.
The best way to take full advantage of 100% offset is to have your salary and other income paid directly to the account.
You can then draw the funds you require as needed - but be aware that every dollar remaining in your 100% offset account offsets your home loan balance, potentially saving you thousands of dollars worth of interest over the life of your loan.
We recommend talking to your accountant or financial advisor for proper tax advice on this matter.
Lines of credit
Operate in a similar manner to a credit card in that you may spend up to your limit on whatever you want so long as you make your minimum monthly interest payment. The main features of the line of credit include:
Immediate access to funds up to an agreed limit.
The freedom to use loan funds for any purpose.
A simple 'once only' application and approval process.
The flexibility and convenience to pay extra and redraw at any time.
Interest is calculated on the daily balance of your line of credit.
You have access to your funds either through ATM card, cheque book, BPAY, phone banking, or internet.
Some lenders have the ability to set up many separate line of credit accounts under the one master limit enabling you to separate your personal and investment loans for income tax purposes.
Lines of credit may also be packaged with other home loan products.
A strict spending discipline is strongly recommended with this type of product.
Lo-doc home loans
Lo-doc home loans are a recent lending innovation to assist people who cannot easily prove on paper that they have the required income to service their loan. The key features of a lo-doc home loan are:
Competitive home loan interest rates.
No proof of income required.
Available to both owner-occupiers or investors with a clean credit record and at least 20% deposit or equity in their own home.
You can choose either a standard principal and interest home loan, an interest only loan, or a line of credit.
A lo-doc home loan can enable those who cannot yet prove their income to be able to take advantage of opportunities where they need to act quickly.